Sintered Wave Technology uses enhanced capillary flow as a primary mechanism for containment transport. To learn more click here.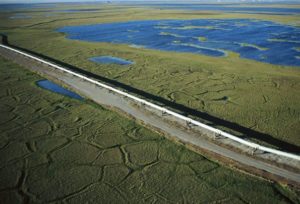 Our technology protects the permafrost; it also reduces the volume of gravel needed for new roads and facility pads resulting in significant cost savings. We use natural materials and the arctic environment to create an insulating layer to protect the new infrastructure from permafrost melt. To learn more click here.
Permeation Bed Treatment Technology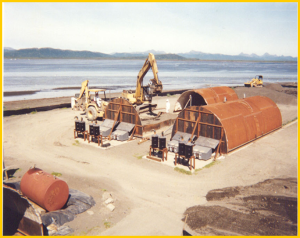 The permeation bed treatment technology is an excavation equipment compatible device.  Wheel loaders can freely enter the treatment chamber for loading and unloading the soil.  The technology is a static pile arrangement using flameless heat sources.  The soil is treated through drawing hot air from a permeation bed, which consists of a large rock bed heating through hot air injection.  The rock bed stores the heat, which lowers energy costs.
Double Oxidation Pre-treatment Technology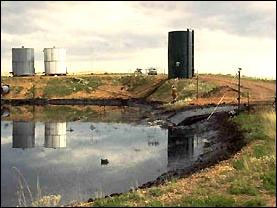 The double oxidation pre-treatment technology was specifically developed to address coal ash residual sediment, which have significant anaerobic noxious odor issues.  Coal ash residuals are commonly stored in ponds where water is used to cap the sediments preventing noxious odors from entering the air.  Ezra Terra developed a double oxidation process where the odors are eliminated.  The process turns the sediment into a pumpable media.  The sediment can be further treated to remove the hydrocarbon contaminant, which was the origin of the noxious odors.  The media can be pumped into a Sinter Craft for final treatment.
Apatite Metal Stabilization Technology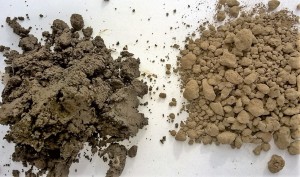 Ezra Terra acquired the Apatite Metal Stabilization Technology to handle metal contaminated porous media (soil and sediment).  The technology uses a proprietary process to chemically stabilize the metals in soil or sediment by bonding the metals to the soil or sediment. The process addresses the ability for the metals to leach from the soil.  The EPA defines RCRA characteristic hazardous waste through a leaching analysis (TCLP).  The Apatite metal stabilization treatment process will take elevated TCLP soils and render the soil non-hazardous, which allow the soils to be disposed at a non-hazardous waste landfill at significant cost savings.
Rubber Excavator Track Recycling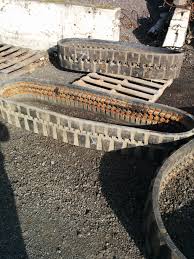 Ezra Terra recycles old rubber excavator tracks. Old rubber tracks are not accepted in most landfills. We separate the rubber from the steel skeleton and recycle both the rubber and the steel. Ezra Terra has a facility in Klamath Falls, Oregon dedicated to the recycling process.